Arsenal have moved into third on the log at least for the moment with a spectacular victory against Hull City. Things seem to be a bit better in the Arseno-sphere at least for now. A brace from Alexis Sanchez who can't just stop scoring against Hull City, a brilliant Theo Walcott chip and a Granit Xhaka strike from 30 yards out secured the victory for the Gunners. Here are the talking points from the game:
Iwobi will go places but he needs to work more on his defensive abilities
Theo Walcott and Alex Oxlade-Chamberlain need to be worried. Iwobi is on the rise and if recent displays are anything to go by, these are no flukes. The lad is not looking like someone who will be on the wane anytime soon. The only negative to his display really is his defensive capability. For all of his brilliance going forward, he is terrible when it comes to falling back to help the defence. He was guilty of same in the Champions League and it's like we are playing with 9 men defensively whenever we have Ozil and Iwobi in the starting. If he can work on that defensive frailty, the sky is his starting point.
Arsene needs to remind Coquelin he is a defensive midfielder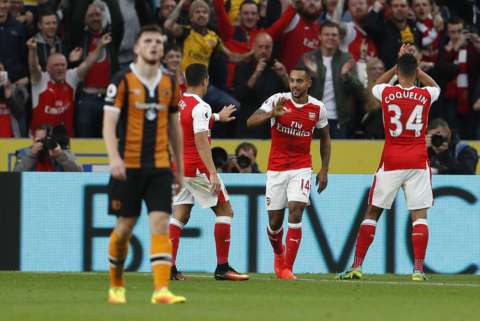 Arsenal got away with
a lot of suicide that would have been punished by quality sides today. If Santi Cazorla ventures forward in a game, it is understandable but Francis Coquelin. No! The Frenchman left the defence exposed as he abandoned his primary duty of shielding the defence. It is true he 'played' a major part in getting Hull reduced to 10 men which made the game easier for us, but honestly, I don't think he should be there at that point. The manager needs to remind him of his primary assignment in the team. Coq should leave the attacking job to the likes of Ozil, Iwobi and co.
When will Arsene Wenger realize Alexis Sanchez is not a striker?
Arsene Wenger is about the only one with the believe that Sanchez can make it as a striker. Yeah, he scored two today. And it could have been three had he converted the spot kick. But the truth is Alexis is not a striker. We got away with it today because we didn't play a top side. There were times in the game when there was nobody to aim at in the box. The man who was supposedly earmarked to do the striker's job has left his position. This could mean one thing, even Alexis doesn't see himself as a striker. Why will you have a specialist on the bench and play someone who likes to cut in as a striker? Well, Arsene Knows Best!
Shkodran Mustafi – What a defender!
Shkodran Mustafi is just awesome. He didn't put a foot wrong and his partnership with Laurent Koscielny is definitely spot on. His tackles were well timed and you've got to love his aggression. He was the busier of the two defenders today and he did what was expected of him well. It seems we have finally sorted our defensive problems with his signing. And honestly, if his performance today was by an Englishman, the whole English media won't relent in their praise. One can only hope he continues this way.
Theo Walcott – Another Mystery
Theo Walcott is a player we all have divided opinion about. Just like The Ox, one minute, he is having the game of his life, the next, you wonder how he became a professional footballer. His performance in the game was not convincing but then you can't ignore the part he played in the first three goals. His inconsistency is his Achilles heel and if he can get his acts together, maybe fans will warm up to him again
Finally, it will be so nice for the manager Arsene Wenger to settle on his first 11 quickly. The defence line seems okay but tinkering the attack might have adverse effect on the team later on. Other top teams like City and Liverpool seem to have settled that and you could see the understanding between players when they play. The sooner he does same with Arsenal, the better for us
Post written by @FOlumuyiwa_1 and @hawt_red