The Euros began this evening with France and Romania serving us a beautiful game of football albeit with a very dour first half. Here are the five things I learnt from the game:
1.  Giroud knows how to shut his up: Having been booed in the warm up games to the Euros, Giroud delivered an emphatic response by scoring the first goal of the competition. Nicely done, Oli.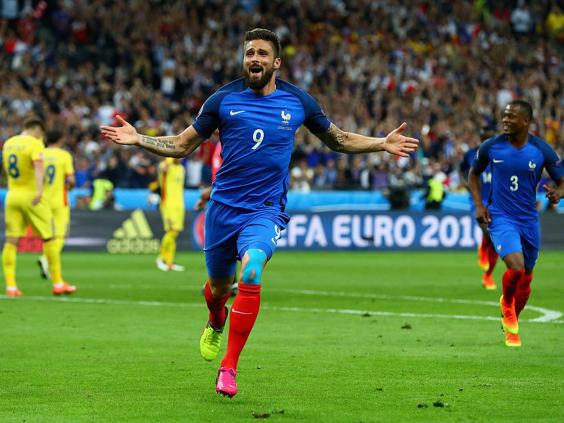 2. Pogba should just play football: We all know Paul Pogba is a quality player, he therefore has nothing to prove to anybody. Pogba put a lot of pressure on himself throughout the game and this made him play below his ability. Take it easy son, you are one of the best in the world. So play your normal game.
3. Griezmann – Giroud Partnership might not work: Giroud's partnership with Griezmann might be a wrong choice for France. Both players were not on the same wavelength throughout the first half. Word of advice, Deschamps, if you're playing Giroud, use 4-4-1-1 with Griezmann playing off Giroud. And if you're gonna play 4-4-2, Griezmann – Martial won't be a bad idea.
4. Romania deserve a little credit: If you thought Romania would be intimidated by the fact they are playing against the host, you are wrong. They came at France and almost got a draw. If they play this way for the rest of the competition, they will go far.
5. Payet is class; Evra is a duck: The game was won by a moment of sheer class by Dmitri Payet. Although he didn't have a great first half by his usual standard, that goal is worthy of winning any match and that wasn't even his stronger foot. Take a bow son. A player I'm suggesting for castration is Evra. What a moment of foolishness from the defender for the penalty. That was pretty poor defending. He was poor all game in my opinion. There was no danger whatsoever, why make that choice. It was a pretty silly move from that duck.