The phoney wars of international friendlies are over and the real business of the European Championship begins this Friday. So it is once again time to dust off the crystal ball and take a guess on how the Championship will unfold over the next four weeks.
Can Vincent Del Bosque and Spain's grip on the crown be released? Can Didier Deschamps and France finally capitalize on home advantage to win their first major trophy in 16 years? Can Antonio Conte rebuild Italy from the wreckage of that 4-0 humiliation suffered at the hands of Spain in the final of Euro 2012? Can England finally turn promise into a Championship title?
9jagooners.com writers have consulted the 'football gods' and here are our predictions:
…………………………………………………………………………………………………………………………………………..
Eweobaja Olumuyiwa (@Folumuyiwa_1)
Winner: I'll go for Germany. They have the best squad in my opinion and the team oozes quality all round. They have the best goalkeeper in the world in Manuel Neuer. Hummels coordinating the defence, Ozil pulling the strings in midfield and Muller upfront. I don't think any team would be able to match their strength. The other team that comes close is France. Both for the final in my opinion.
Germany lifting the 2014 World Cup Trophy
Top Scorer: Muller. The guy's record in international tournament is frightening and he's just 26. I'm backing him to go all the way.
Player To Watch: I'll be watching Granit Xhaka. I've not seen much of the guy really except for Youtube clips. I'll watch him up, close and personal.
HawtRedGunner (@hawt_red)
Winner: I can't help but pick Germany as the winner of this edition of Euros. Low has some decisions to make regarding Bastien Schweinsteiger as he is  not the player he used to be. He will also surely miss Miroslav Klose as well as Philippe Lahm but Germany have the ability to transition players without missing a beat. Though they have lost 4 of their last 8 friendlies, the Diemannshaft are a big tournament team with an elite CV. They are the current World Champions having finished third in the previous 2 editions and runners up in 2002. Their Euros record is not that shabby either having been runners up in 2008 and reaching the semifinal in 2012. They are knocking on the door of European glory and with this very balanced team and an array of world class talents scattered all over the pitch, it would be wise to bet on them going all the way.
Top Scorer: This was a tough choice for me but I went with Muller. how could you not? Look at his international records.
Player of the tournament: Pogba. you get the feeling he loves the spotlight and will thrive being the Face of Euro 2016. He will definitely shine.
Semi final quartet: Germany, France, Spain, Poland
Henrie Eddy (@henrie_10)
Winner: Why do I have a feeling that we are going to have a new winner this year? Although it's so tempting to choose Germany or France or even the present champion Spain as my Winner, I am going with Belgium as my (wild card) Champion. It is worth remembering that they qualified for this year's tournament with a game to spare back in October and this propelled them to the top spot of the FIFA ranking for the first time in their history. They are a side buzzing with a lot of talents in all department. Starting from the goalkeeping section, Belgium can boast of two top goalkeepers in Thibaut Courtois (Chelsea) and Simon Mignolet (Liverpool). Although Courtois had a below par season with Chelsea, his talent cannot be undermined. Even in the absence of skipper and defence anchorman, Vincent Kompany due to injury, there are still lots of trusted and experienced defenders in this team that plies their trade in top European clubs. To win any tournament, you need stability and balance and that they can boast of in Roma's Radja Nainggolan and Zenit's Axel Witsel. Another big plus to this team is the return to form and fitness of Eden Hazard and Kelvin De Bruyne respectively, not forgetting their attacking threat in Benteke and Lukaku. Placing one's bet on them would be a risk worth taking considering the odds involved.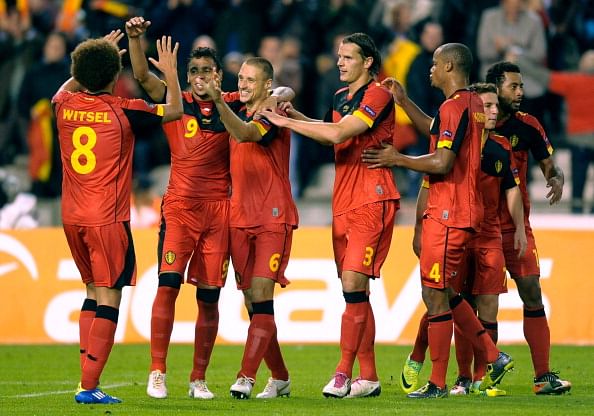 Quick Fact: Belgium boasts of Euro 2016's costliest squad with their 23 players' combined transfer value reaching almost £318.9million.
Player  to watch: Arsenal new signing Xhaka
Semifinal quartet: Germany, Portugal, Spain, Belgium
Player of the Tournament: If by my prediction Belgium are to shock the world, Eden Hazard has to come alive.
Top scorer: C. Ronaldo
Match to look out for: Belgium vs Italy… England vs Wales
Adegoroye Olatunde (@Horlatunde)
Winner: Looking at the teams, I'm so undecided on who to pick as my favourite for the tournament, Germany being a team of winners with lots of experience(both at international and club level) are definitely anyone's first pick to lift the trophy but I'm going for France.  France have shown on two different occasions that they've been hosts that they can win on home soil (Euro 1984 and 98 World Cup) . With the array of hungry, young, talented and promising lads in Paul Pogba, A. Griezmann, an in-form Payet, workaholic Kante and even a 'Giroud' upfront, France cannot be overlooked. Home support would also play its part.
Player of the Tournament – Paul Pogba
Players to watch – Kante and Xhaka
Surprise of the tournament – England
…………………………………………………………………………………………………………………………………………………Do you agree with our writers? Let's have your views in the comment box below. Get excited, the Euros is here!
Are you an Arsenal fan? You love writing? Let's give you a platform to build on. Join our team by clicking here