Whether you are a 'Wenger-in' or 'Wenger-Out' Arsenal fan, your beloved/maligned [delete as appropriate] Arsene is not leaving anytime soon according to Arsenal Chef Executive, Ivan Gazidis.
In an exclusive chat with Telegraph's Jeremy Wilson, Gazidis said of Arsene Wenger, 'He's in his mid-sixties, it's natural to think about when his time here might come to an end, but the truth is nobody knows. He is in fantastic shape. He is deeply engaged and excited. One of the biggest challenges we will face is the transition, whenever it happens, but that is not something we are going to be facing imminently. Obviously, he is going to be managing us next year and we are planning and making many decisions for the long term.'
Wenger will reach a remarkable 20th anniversary as manager in October and while it is obvious the results on the field are not what it should be in recent years, tere is no doubt Gazidis and the board feels they have the best man to lead Arsenal back to glory. "There is not nostalgia on either side," says the 51-year-old Gazidis. "It's not what motivates us or him. The reason we have Arsène as our manager is because our board believes he can deliver success. The reason that Arsène is here is because he believes that he can deliver success. If either of us didn't believe that we would not be constrained by nostalgia or longing; we would have to make a change. Arsène would understand and support that. But it's just not how either side feels. We feel we are on a good path."
Although, there have been different definition to what success is from both fans and board, the debate about the extent to which Wenger and the club are indeed delivering will never end. Arsenal's fanbase is divided as seen in an attempted 'Time for Change' protest in April which focused on the 12 years since Arsenal have won the Premier League. The counter argument, of course, is Arsenal's consistency, the two FA Cup wins since 2014 and consecutive Premier League finishes of fourth, third and second, even if this most recent season was clearly a big missed opportunity.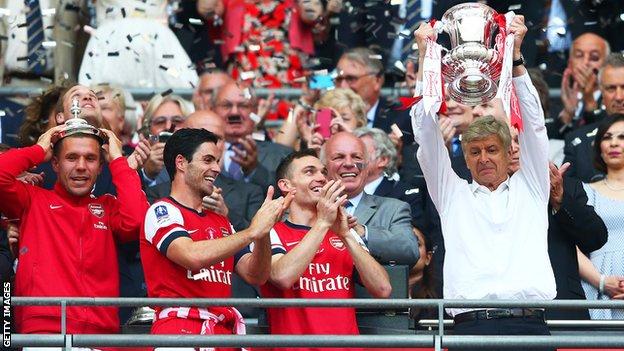 Gazidis admitted the last year was a disappointment as the club wanted more than a second place position which on its own is not a disaster. 'We have to be disappointed, certainly not satisfied, to end up second," he says. "We wanted more than that and I think that there were chances during the season. We are taking a long, hard, realistic look at why we fell short of our ambitions. You can't say second place is a disaster, but it's not what we are about."
He also admitted there are tensions but not to a point that will break the Arsenal spirit or fan base. This he says can be seen in the high rate of season-ticket renewal this year. He also acknowledged the fact that next year is going to be tougher considering the recent acquisition of managerial juggernauts by our direct rivals.
We can only hope the club would follow up the signing of Xhaka with a world class striker and a defender as we can't afford to fall short again next season. Whether the club do that remains to be seen.